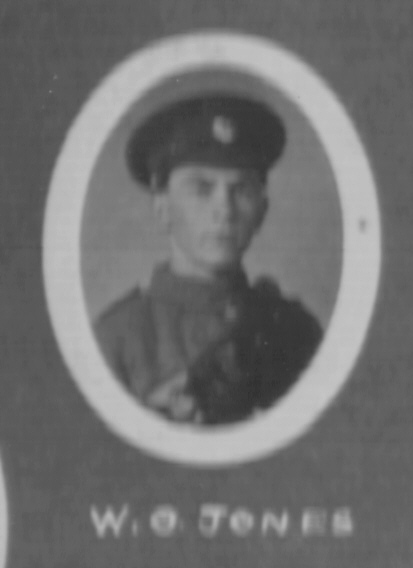 William Owen Jones was born 1897 in Llantysilio, son of John Jones, a slate quarryman of Llandynan Cottages, Llantysilio and Elizabeth Jones (possibly nee Owens). By 1911 William was a farm labourer, and the family were in No. 1, North End Cottage, Llantysilio, but he later worked in Mr. E.H. Lloyd's Central Stores, Castle Street. He was one of nine men to join up from the Central Stores. In October 1917 he was gassed in France, and transferred to an auxiliary hospital in Liverpool, but he died on 22nd November, the fourth of the nine from the Central Stores to die. His body was returned to Brookside, Pentredwr, where his family now was, and was buried on the north side of Llantysilio Church yard on the 24th November 1917.
An enlargement taken from the memorial
photograph of Great War soldiers,
taken by local photographer Lettsome.